FeaturedJacob's Tent Sukkot 2020 (Sukkot 2020 is completely booked at full capacity)

Event Details
Celebrate Sukkot with Bill & Beth Cloud and the Jacob's Tent family.
Last year's celebration was joyous beyond words and we are expecting the same for this year and so we are happy to announce that we will congregate for the Feast of Tabernacles from October 2 — 11, 2020. Our campsite will be held at Euchee Marina & Campground and Hornsby Hollow Campground, situated along beautiful Watts Bar Lake in Ten Mile, TN. Space is limited , so make sure to secure your spot today.
A limited number of camping sites will be available beginning on Friday, October 2, 2020 in Euchee and in Hornsby Hollow campgrounds. Additional sites will open up at Hornsby Hollow on Sunday, October 4, 2020. Make certain that you read the specific ticket information carefully before making your reservation!
Also take note that, at this time, reservations are only being taken from those who are planning to stay through October 11, 2020 (whether they purchase a reservation beginning 10/02 or 10/04). Partial reservations (e.g. staying only 2-3 nights) will be taken AFTER general registration concludes on September 4, 2020.
All attendees MUST register through Jacob's Tent and NOT through Euchee Marina or Hornsby Hollow. Admittance to our gathering will be granted only to those who register through Jacob's Tent. DO NOT BOOK WITH EITHER OF THESE ESTABLISHMENTS IF YOU ARE PLANNING TO ATTEND OUR SUKKOT GATHERING.
Very important: If you have secured private lodging outside these two sites, you must still register here.
Registration will close on September 4, 2020 and all registrants will be notified soon thereafter with event details and account balances. All balances must be paid by September 18, 2020. Sorry, but no refunds after that date.
We are expecting to have a great time and hope that you can be part of it.  Looking forward to seeing you at the Feast!
Bill & Beth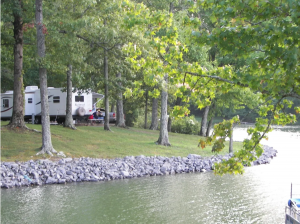 Pavilion area at Hornsby Hollow campground.
Time

Year Around Event (2020)
Location

Euchee Marina & Campground

200 Euchee Lane