Jacob's Tent is located at 155 Inman St. E in downtown Cleveland, TN (at the corner of Inman St. and Parker St.)
The main entrance is on the Parker Street side.
Parking on the Parker St. side is limited and is reserved for our seniors and those with special needs. General parking is available across Parker St. in the public parking area behind The Catch Bar & Grill and along 1st Street. Additional parking is available across Inman St. at the Five Points Museum.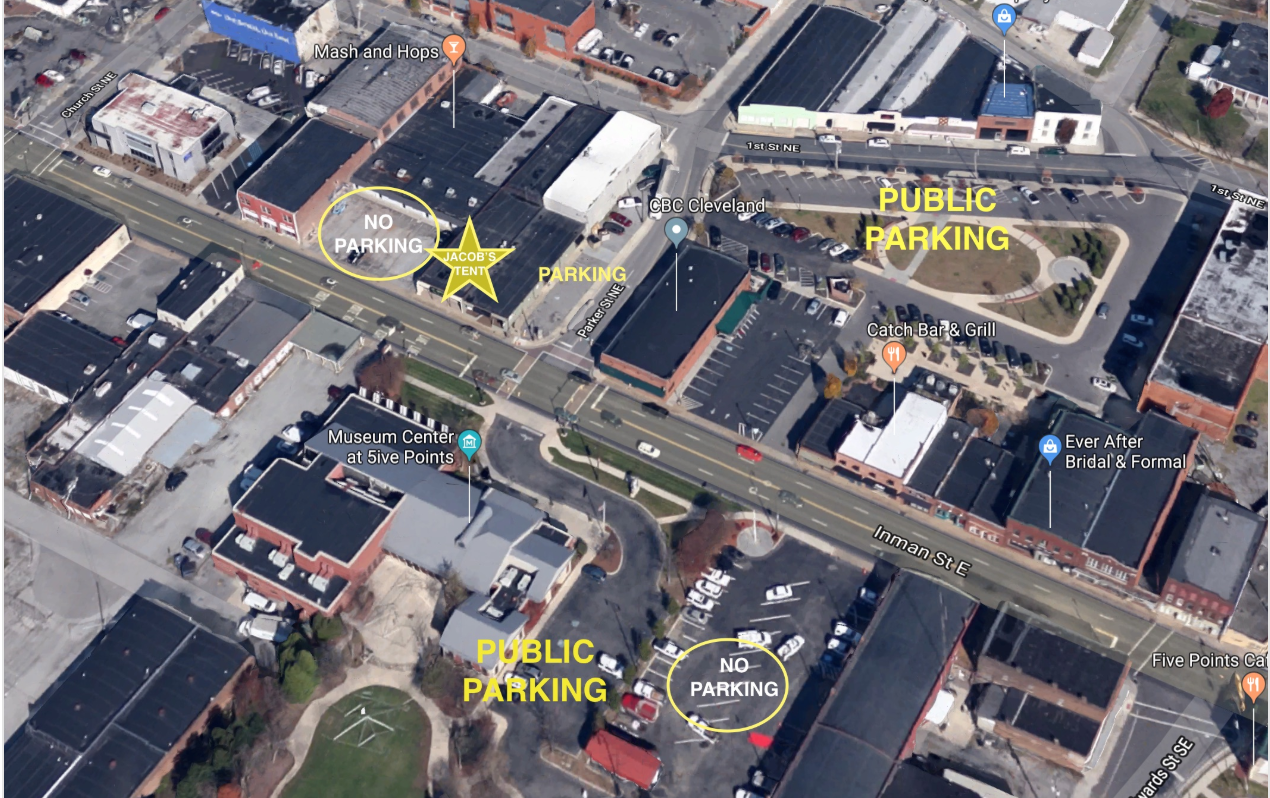 We meet every Saturday at 11 AM. We first gather for Praise & Worship accompanied by Davidic-style dance, followed by a message inspired by the weekly Torah portion. After each service we meet for oneg (a time of food and fellowship). Our community meal is followed by a midrash (Q & A/discussion).
Dancing during praise and worship is encouraged and participation is voluntary. If you wish to join with our dancers, participants typically meet around 10:00 AM to freshen up on the appropriate dances for the day's worship service. All interested parties are invited to join them.
During the Midrash, all young people (10-19 years) are invited to join Jeremy & Carmen Doll, along with Brandon & Melody Cloud, for Bible Study and fun in the Youth room. Participation is voluntary.
There is a nursery area available to our little ones 4 years old and under. All children in the nursery must be accompanied by a parent (no older siblings, please). Please don't bring sick children into the nursery out of consideration for others. A monitor is in the nursery so that parents may view and hear the service.
We gather each Wednesday at 6 PM for a midweek Bible study and community meal. All ages are invited to attend the Bible study after the meal. Those young people who wish to gather in the Youth room for activities and games.
NEW MOON SERVICE & OTHER FEAST DAYS
We congregate on each New Moon for food and celebration. Dates will vary according to the calendar so consult our schedule for service dates and times.
We observe the Biblical Festivals and holy days and have special events for each of these appointed times (moedim) as well as Purim and Hanukkah.
For a list of upcoming events, click here.